The world of payment conversions can be a confusing place, especially when you aren't sure how to navigate it. However, if you want to make more sales, they are increasingly critical to pay attention to for eCommerce businesses alike. Here are 5 reasons your payment conversions might be suffering, and what you can do to fix them.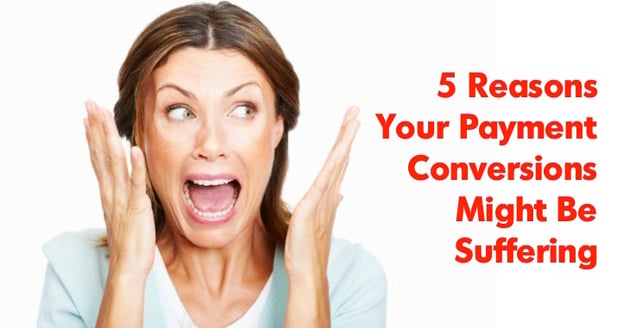 5 Ways to Fix Your Payment Conversions:
1. Subscriptions
Yearly subscriptions are more likely to be declined than quarterly and monthly recurring transactions. In fact our data shows that yearly subscriptions are only approved on average 67% of the time while quarterly subscriptions can go through 86% of the time. And what about the amount? A $2500 or higher average ticket is approved 83% of the time while an item valued between $250-$500 is approved 90% of the time. So, what is good way to avoid this? Consider offering your software in a monthly or quarterly recurring payment. A $100 monthly charge will increase your conversions substantially. Not to mention, offering your customers a subscription will increase their lifetime value. And make sure you are offering Account Updater functionality as well so that you don't lose sales when cards expire or get lost.
2. Currency Mismatch
Are you charging your customers in USD but their bank is trying to accept it in CAD? Don't forget that some of your customers could be coming from other countries where their preferred currency is not the same as yours. This could cause your conversions to suffer – make sure you are partnering with a payment gateway that can present, settle, and payout in multiple different currencies.
3. Multiple Connections to Banks
If you've never heard of this, your gateway is definitely only connected to one bank. This is especially important for those of you who are selling internationally. Customers coming in from China are very likely to get declined at a U.S. national bank. Don't sell yourself short – you want a payment gateway that is connected to multiple banks so that you can make sure those international sales get routed to a bank where they are more likely to be accepted.
4. Failovers
If you are connected to multiple banks as mentioned above, then your payment gateway also has the functionality to be able to fail over transactions that may not go through the first time. This can increase conversions up to 3%. This may seem like small potatoes but think of it as the gravy which makes those potatoes taste even better.
5. Aggressive Fraud Rules
Make sure that your fraud engine is working for you not against you. Integrate with a payment gateway that gives you to the tools to optimize the fraud strategy that is best for your business.