Last week at Inbound 2015, the BlueSnap team set out to be data gatherers. We were hoping there would be a plethora of eCommerce businesses, and boy were we pleasantly surprised with the awesome people we met. We had a survey set up at our booth to gauge the global appetite of these businesses, and the results were definitely eye opening. What were these businesses selling online? Are subscriptions really as popular as we think? Did these businesses have an international customer base? Read on for our analysis of these questions and more.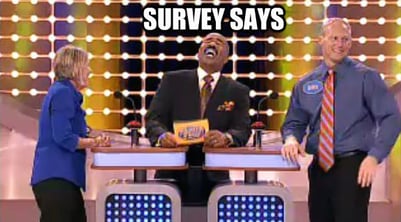 74% of businesses are selling digital goods online
Shocked? While a lot of us think to Amazon as the mecca of online goods (which are physical), there are so many companies out there that are selling software or other business tools (what are CDs, anyways?). While physical products are possible to sell internationally, digital products are much easier, which leads to the next point that…
63% of these businesses are selling globally
Most of these people seemed well versed in the global eCommerce game. If you aren't yet in the game, you may want to hop on board. They all knew that they had international customers, but in some cases they were struggling to reach them properly. This became especially apparent when we asked what kinds of payment types they were accepting. The top three payment methods people said they were accepting were credit cards, PayPal, and ACH/Wire transfer (sometimes not so successfully). Sacrebleu! No wonder! A lot of these people were selling into Europe and Latin America, where local payment types are much more highly used than the standard credit cards. For example, in Brazil they use credit cards, but they are all locally issued, and therefore will be rejected by most banks outside of Latin America. In Germany, Sofort (an online banking system) is their most popular choice. Do I need to go on? I don't think so. If you want to sell globally, you need to accept payment types other than credit cards and PayPal.
Another interesting thing to note is that of these digital businesses, 64% of them were using a subscription-based model.
Most people don't know that some gateways have subscription billing built right into their platform, so you don't have to have a separate integration to bill people on a recurring cycle. Consider partnering with a processor who has subscriptions so that you can reduce the amount of development you have to do.
Eye-opening? We thought so. You may need to take a second look at your payments and rethink your plans for now and maybe even the future.