It's beginning to look a lot like EMV is going to steal our Christmas (shopping). The Grinch that has been confusing everyone since its start on October 1st is now predicted to wreak havoc on holiday shopping as well. While the EMV shift is causing card-present users to be more secure, it is leaving unintended and frosty drawbacks to shoppers and merchants alike. Let's look at 4 ways that EMV could impact your checkout this season.
1. Fa la la-onger lines
If you haven't had to use EMV in the store yet, be prepared for a more cumbersome experience. Apparently, it takes a lot longer to checkout if you want to be secure (who would have thought). From the original swipe, to the terminal rejecting your swipe and asking you to inset the chip, to the process it takes to approve, checkout has become a hassle. Imagine holding your new 90-inch plasma screen in line while waiting for all the people in front of you to fumble around with this process – you might want to get a cart for that!
If you think we're joking, just look at the experience our SVP of Marketing had this past weekend (and it's not even holiday shopping time yet!):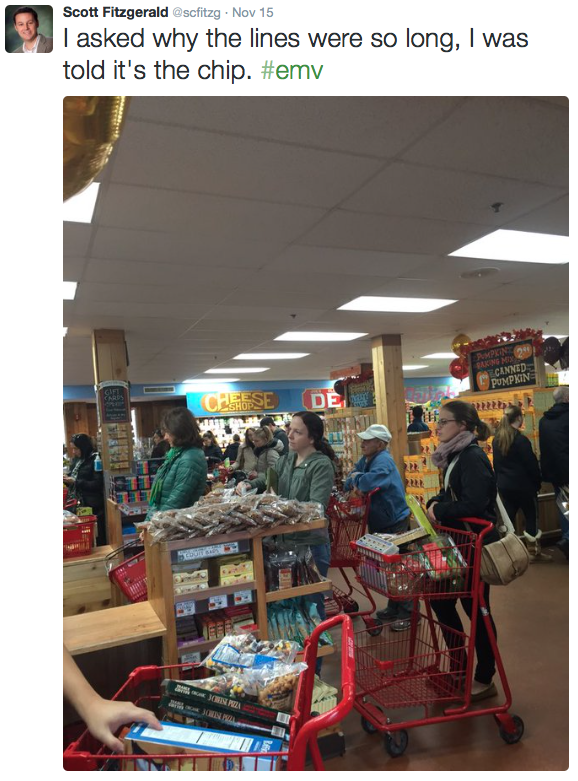 2. Oh holy night, the mobile payments are brightly shining
One positive that we could see out of this shift? People may resort to mobile paymentsto try and cut down checkout times. From Apple Pay to Android Pay, these methods could become the top choice for shoppers if they are perceived as easier to use than an EMV chip card. Maybe you can hold up that TV after all if all you have to do is flash your Apple Watch at the sensor to pay for it…
3. All I want for Christmas is eCommerce
With the disaster that EMV is predicted to cause for in-store purchase times, it may be the time to focus more on your eCommerce site if you have one. Customers will likely be more apt to purchase online this holiday, especially with many retailers (such as REI) ditching the ideals of Black Friday. Why move from your turkey coma on the couch if you can just lift one finger to make a purchase? Online merchants should take advantage of this shift and make sure their checkouts are frictionless so that they can maximize conversions and make more sales.
4. 'Tis the season to be prepared for fraud
Many people have been concerned with the EMV shift, especially in terms of how it will affect eCommerce fraud. Since point-of-sale is now more secure, fraudsters may be going online to make their purchases of coal. In fact, card-not-present fraud attempts are up 30% in 2015. Additionally, in 2014, 81.8% of retailers said they experienced losses from merchandise purchased with fraudulent or stolen payment methods (in 2013 it was only 69%). Don't use a one-size-fits all approach for your fraud system this holiday season. If you don't know how to customize your system to work best for you,partner with someone who does.
So while people may be hoping that their EMV chip cards will be roasting on an open fire, there is hope for retailers yet, especially if you are online.