Black Friday, the infamous day where millions descend upon retailers all across the country to save a couple bucks and try to avoid getting trampled by others. Though a longstanding tradition in American culture, people have begun to turn on the holiday originally meant to get merchants "into the black". Retailers have slowly begun announcing that their stores will not open as early as in previous years. And some, like REI, have announced that their stores will not be open at all. Is this because these retailers really care about the "family bonding" that the Thanksgiving holiday is intending to bring, or is there a new sheriff in town that will be directing customers online instead of in-store?
Our CEO, Ralph Dangelmaier, sat down with Market Platform Dynamics CEO, Karen Webster, to discuss the idea that this may be the end of Black Friday as we know it as Cyber Monday slowly creeps to the top of the charts. Check out the original article here.
It seems as though Black Friday is slowly becoming played out. In fact, only 45% of consumers even planned to shop on the holiday at all, so it seems that retailers have caught on to the trend and are giving customers what they want by closing down stores. So, is this the end of Black Friday as we know it?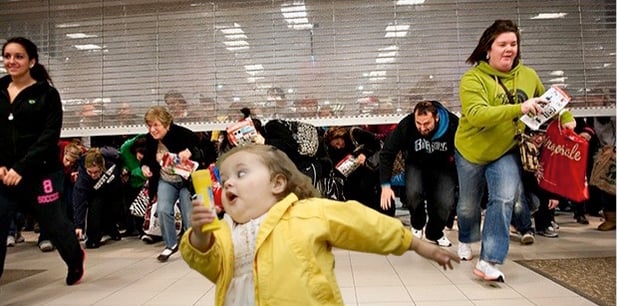 Our CEO, says, in short, yes. "I think this is the beginning of a trend to end Black Friday," he told Webster, "because ultimately the experience is not good most of the time. Getting to stores is a hassle, the deals aren't always that great or, when you get to a store, the item you want isn't available. Then, there's a real security problem; people have gotten hurt or even killed while shopping. I think the big changes we are seeing are a good thing."
So how can retailers better control the experience? Getting their shoppers to buy online in the comfort of their own homes! It comes as no shock that Thanksgiving Day is predicted to grow its digital retail sales by 18%, but that Cyber Monday will take the cake for amount of digital retail capital pulled in (a casual $3 billion). With the growing trust and faith in eCommerce, now instead of going outside and waiting in the cold for $100 off a television, consumers can buy that and more while in a turkey coma on their couch.
But just because shoppers are going online, doesn't mean it's so easy to convert them. How will retailers set themselves apart this holiday season to make their conversions work for them? Retailers will have to pay close attention to their checkout experiences, says our CEO. Consumers who can't check out easily — whether that means taking too many steps to check out, not offering the right payment methods or, during the holiday season, not having coupons or promo codes easily accessible and entered — often give up and go to another site, and the merchant loses that sale, our CEO said. "This is the checkout conversion problem we see. And when we do see it, we see merchants missing big," our CEO noted. "Merchants can miss as much as 20 to 40 percent of their sales because they aren't optimized to convert shoppers into happy buyers." Missing out on these sales for something so simple can be a huge mistake for retailers this season.
So while Black Friday is not totally dead, the trends are certainly headed that way. What do you think – will we see Black Friday ever completely go away? Or will it outlast the test of time (and eCommerce)?